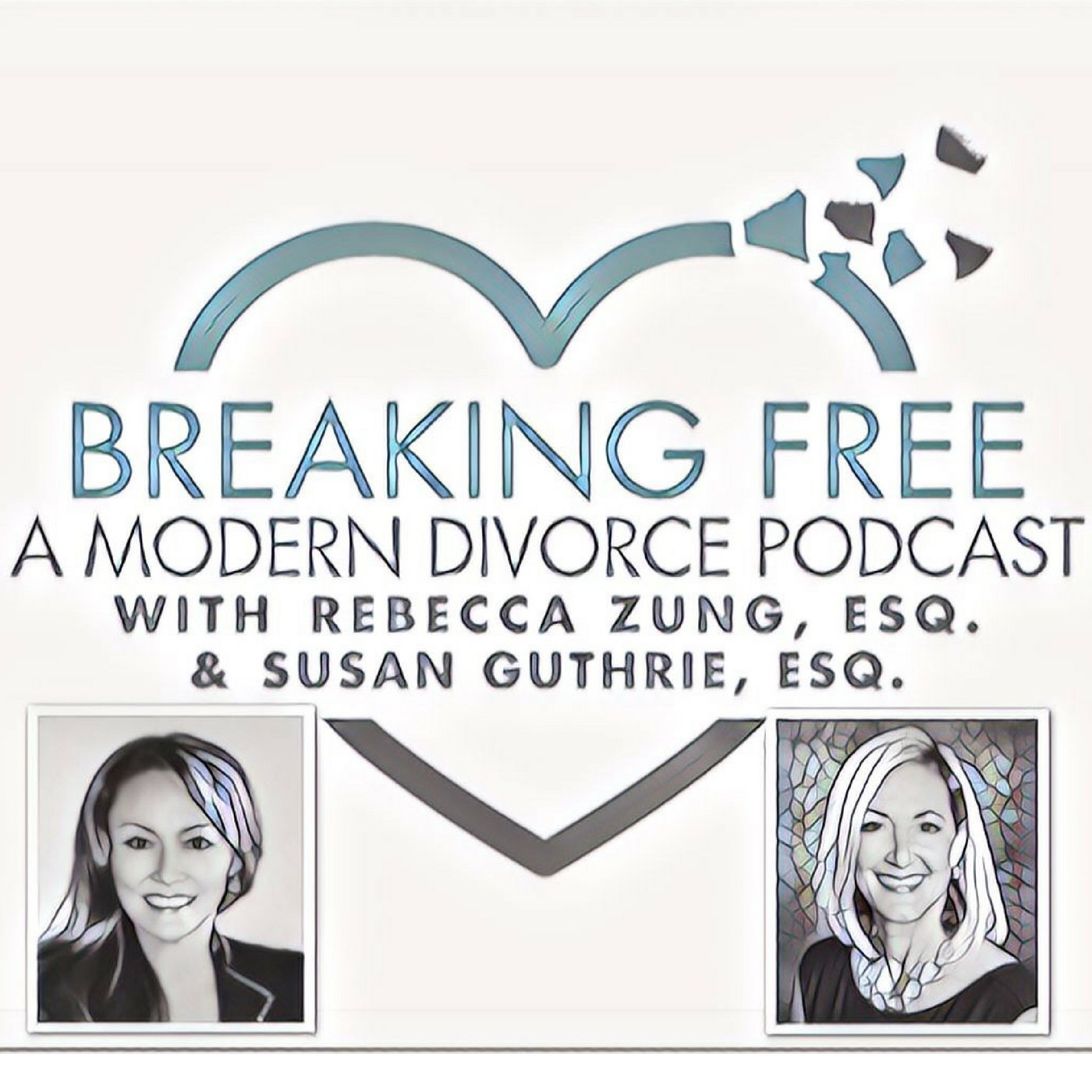 Rebecca Zung, Esq. and Susan Guthrie, Esq. discuss all the inside details regarding the law and practicalities of prenuptial agreements on Breaking Free:  A Modern Divorce Podcast.
Kanye made the case for prenups in his song "Golddigger" - "When she leaves your ass, She's gonna leave with half."  Jeff Bezos, the founder of Amazon, famously does not have one making his multi-BILLION dollar divorce headline news and likely making his soon-to-be ex-wife one of the wealthiest women in the world.  So what is the real story behind prenups?  They are a truly difficult conversation to have with your fiancé, after all, what says romance more than a prenup when you are planning your wedding?!  Can you really save your assets and give your ex nothing if you divorce with a prenup?  Can you predetermine things like alimony and child support if you have one?  Susan and Rebecca give you all the inside details that you need to know if you are facing this thorny issue.
Whether you are contemplating marriage, or are already married (did you know about POSTNUPS?!) this is the episode for you!
About Breaking Free: A Modern Divorce Podcast:
A fresh inspirational podcast and the place to hear other people's divorce and breakup stories so you know you aren't alone, to learn from the top experts in every related field, and to also have some fun, laugh and hang with two divorce attorney girlfriends who are also top family law litigators.
Hosted by veteran top attorneys, Rebecca Zung, Esq. and Susan Guthrie, Esq., subscribe to this podcast on iTunes; a new show will be released every Monday at 6 AM PST/ 9 AM EST.
Breaking Free Mediation:
For more information about Rebecca and Susan's mediation centers, BREAKING FREE MEDIATION, the first in the country to also offer a "mindfulness" track, please visit www.breakingfreemediation.com
To get your FREE 5 minute calming meditation from renowned meditation expert, Scott Picard, who has been featured in Vogue and the Los Angeles Times, please visit www.breakingfreefromdivorce.com/freemeditation 
To get your copy of Rebecca's bestselling book, Breaking Free: A Step by Step Guide to Achieving Emotional, Physical and Spiritual Freedom, please visit the Amazon website at https://www.amazon.com/Breaking-Free-Step-Step-Achieving-ebook/dp/B00F0UN3GI
Sponsors and Resources:
FAYR Co-Parenting App - For more information on the co-parenting app FAYR created by Michael Daniels listen to Episode #123 "The Insider's Secret to Seamless Co-Parenting" and visit FAYR.com.  
Legal Zoom is a resource for forms and documents recommended by Breaking Free: A Modern Divorce Podcast. Go here for more!
Don't forget to follow BREAKING FREE: A MODERN DIVORCE PODCAST on social media for updates and inside tips and information:
If you want to see the video version of the podcast episodes they are available on YouTube.
Finally, we'd really appreciate it if you would visit iTunes and give us a 5 Star Rating and tell us what you like about the show - your feedback really matters to us!
DISCLAIMER: The commentary and opinions available on this podcast are for informational purposes only and not for the purpose of providing legal advice. You should contact your attorney to obtain advice with respect to any particular issue or problem.