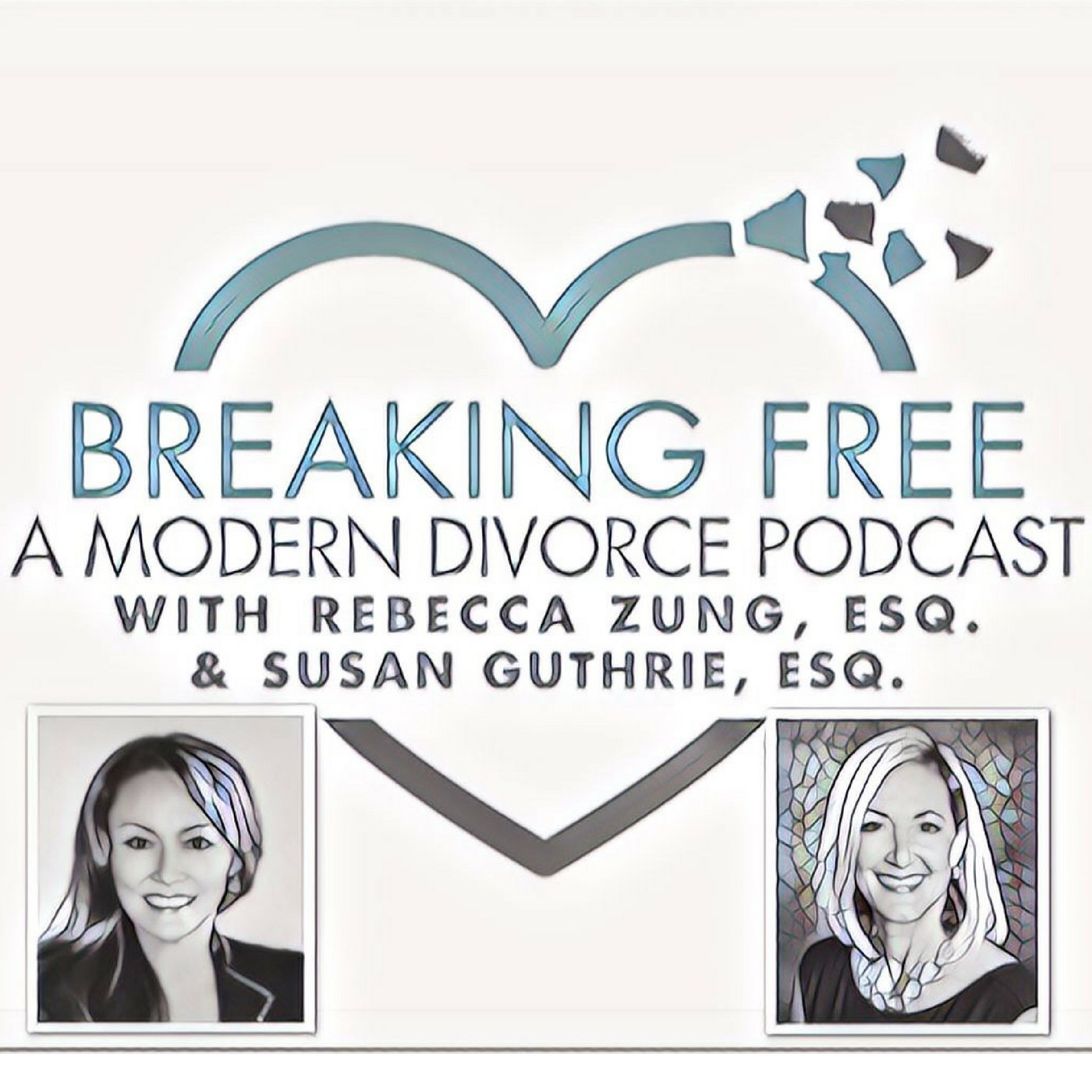 Rebecca Zung, Esq. and Susan Guthrie, Esq. discuss divorce issues around the holidays and solutions to help you to avoid the Nightmare Before Christmas on Breaking Free: A Modern Divorce Podcast #120.
GETTING DIVORCED? ALONE FOR THE HOLIDAYS? MISSING YOUR KIDS?
The happiest time of year can also be the most stressful and upsetting time of year when you are going through a divorce or separation. The holidays are a time of family, friends, joy and celebration but when you end a relationship, things can get very complicated and emotions can run high. In this episode, Susan and Rebecca discuss issues like being alone during the holidays, sharing your kids with your ex and why January is "Divorce Month" and let you in on some ways to still make the holidays merry from their many years as divorce attorneys. Whether its figuring out how to share your time with the kids on Christmas morning or how to go through your first holiday without your ex, these tips and insights can help you to have a holly, jolly holiday – despite your divorce!
To get a copy of BIFF: Quick Responses to High-Conflict People, Their Personal Attacks, Hostile Email and Social Media Meltdowns, by Bill Eddy, mentioned in this episode please visit Amazon here: https://amzn.to/2Fx9Ojh
To learn more about FAYR, the premier co-parenting app discussed by Rebecca and Susan in this episode visit www.FAYR.com.
To find our more about WORTHY and the many divorce resources it offers, including a platform for re-selling your engagement ring and other jewelry, visit www.Worthy.com.
About Breaking Free: A Modern Divorce Podcast:
A fresh inspirational podcast and the place to hear other people's divorce and breakup stories so you know you aren't alone, to learn from the top experts in every related field, and to also have some fun, laugh and hang with two divorce attorney girlfriends who are also top family law litigators.
Hosted by veteran top attorneys, Rebecca Zung, Esq. and Susan Guthrie, Esq., subscribe to this podcast on iTunes; a new show will be released every Monday at 6 AM PST/ 9 AM EST.
If you are THINKING ABOUT DIVORCE OR SEPARATION and are looking for help in restructuring your relationship and your family visit Rebecca and Susan's mediation centers, BREAKING FREE MEDIATION, the first in the country to also offer a "mindfulness" track to help you to transition peacefully, at www.breakingfreemediation.com
To get your FREE 5 minute Calming Meditation from renowned meditation and energy expert, Scott Picard, who has been featured in Vogue and the Los Angeles Times, please visit www.breakingfreefromdivorce.com/freemeditation
To get your copy of Rebecca's bestselling book, Breaking Free: A Step by Step Guide to Achieving Emotional, Physical and Spiritual Freedom, please visit the Amazon website at https://www.amazon.com/Breaking-Free-Step-Step-Achieving-ebook/dp/B00F0UN3GI
Sponsors:
Legal Zoom is a resource for forms and documents recommended by Breaking Free: A Modern Divorce Podcast. Go here for more!
Don't forget to follow BREAKING FREE: A MODERN DIVORCE PODCAST on social media for updates and inside tips and information:
If you want to see the video version of the podcast episodes they are available on YouTube.
Finally, we'd really appreciate it if you would visit iTunes and give us a 5 Star Rating and tell us what you like about the show - your feedback really matters to us!
DISCLAIMER: The commentary and opinions available on this podcast are for informational purposes only and not for the purpose of providing legal advice. You should contact your attorney to obtain advice with respect to any particular issue or problem.