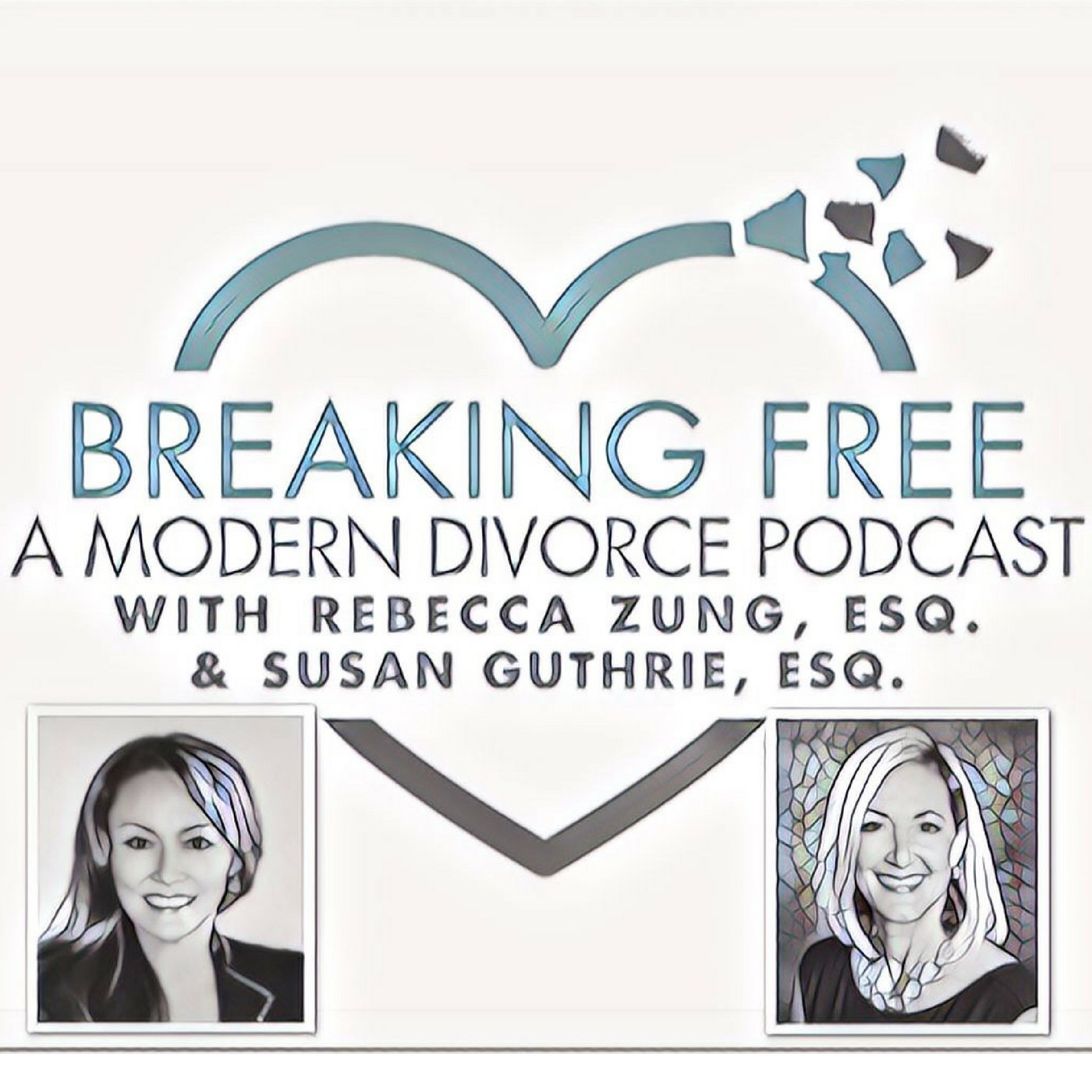 Should I leave the house?  How can I kick my soon-to-be-ex out of the house?  What will happen to my claim to the house if I leave?   These are questions that every family law attorney is asked in almost every first meeting with a potential client.   Once you know the divorce is imminent, the very next question is how to handle your living situation.  In this week's episode, Rebecca Zung, Esq. and Susan Guthrie, Esq. reveal the answers through humorous stories and frank advice, to all the frequently asked questions about how to handle the home situation at during the initial stages of the divorce.   Find out exactly what to do in this episode.  
Breaking Free Mediation:
For more information about BREAKING FREE MEDIATION, Rebecca and Susan's mediation centers which are the first in the country to offer traditional divorce mediation services along with a mindfulness track, please visit www.breakingfreemediation.com Breaking Free Mediation offers services both in person in Los Angeles, Chicago, Naples and Greenwich (More locations coming soon!) as well as nationwide via an online platform. 
To get your FREE 5 minute calming meditation from BREAKING FREE MEDIATION and our mindfulness expert, renowned meditation expert, Scott Picard, who has been featured in Vogue and the Los Angeles Times, please visit www.breakingfreefromdivorce.com/freemeditation 
To get your copy of Rebecca's bestselling book, Breaking Free: A Step by Step Guide to Achieving Emotional, Physical and Spiritual Freedom, please visit the Amazon website at https://www.amazon.com/Breaking-Free-Step-Step-Achieving-ebook/dp/B00F0UN3GI
B.Y.E. DIVORCE RETREATS - as recently announced, REBECCA, SUSAN AND GABRIELLE HARTLEY are partnering to bring you the B.est Y.ou E.ver Divorce Retreats, which will feature inspirational and practical help for women going through divorce as well as those who are still recovering from the process!  Many of our podcast guests will be featured, including: ARIELLE LORRE speaking on wellness, JENNIFER GIAMO speaking on fitness and TAMMI LEADER FULLER speaking on resilience and reigniting your fire.  We will also be featuring financial guru LILI VASILEFF on protecting your finances during and after divorce, ERIN LEVINE on taking control of the divorce process in a financially accessible way, JUDY HERBST on dating after divorce, PLUS a LIVE broadcast of BREAKING FREE:  A MODERN DIVORCE PODCAST, featuring celebrity divorce attorney, LAURA WASSER.   Don't miss this life changing, inspirational and powerful event!   SIGN UP RIGHT HERE:  https://www.eventbrite.com/e/bye-best-you-ever-divorce-retreat-tickets-60272107496
Sponsors and Resources:
Rebecca and Susan are so pleased to be partnering with the premier co-parenting app Fayr who has sponsored this episode.  Fayr provides co-parents with the tools to help them to communicate more easily and to reduce conflict so that they can seamlessly continue to parent their children.  You can find out more about Fayr at www.fayr.com.  Listeners of Breaking Free: A Modern Divorce Podcast receive a 20% discount on their subscription with code "BRKFREE!"!
YOU CAN SPONSOR BREAKING FREE: A MODERN DIVORCE PODCAST TOO!  In order to continue to bring great content and keep advertisements to a minimum, we have established a sponsorship opportunity for our listeners on Patreon!  Click here to become a supporter!  
CONTACT US:  breakingfreedivorcepodcast@gmail.com
Don't forget to follow BREAKING FREE: A MODERN DIVORCE PODCAST on social media for updates and inside tips and information:
If you want to see the video version of the podcast episodes they are available on YouTube.
Finally, we'd really appreciate it if you would visit iTunes and give us a 5 Star Rating and tell us what you like about the show - your feedback really matters to us!
DISCLAIMER: The commentary and opinions available on this podcast are for informational purposes only and not for the purpose of providing legal advice. You should contact your attorney to obtain advice with respect to any particular issue or problem.