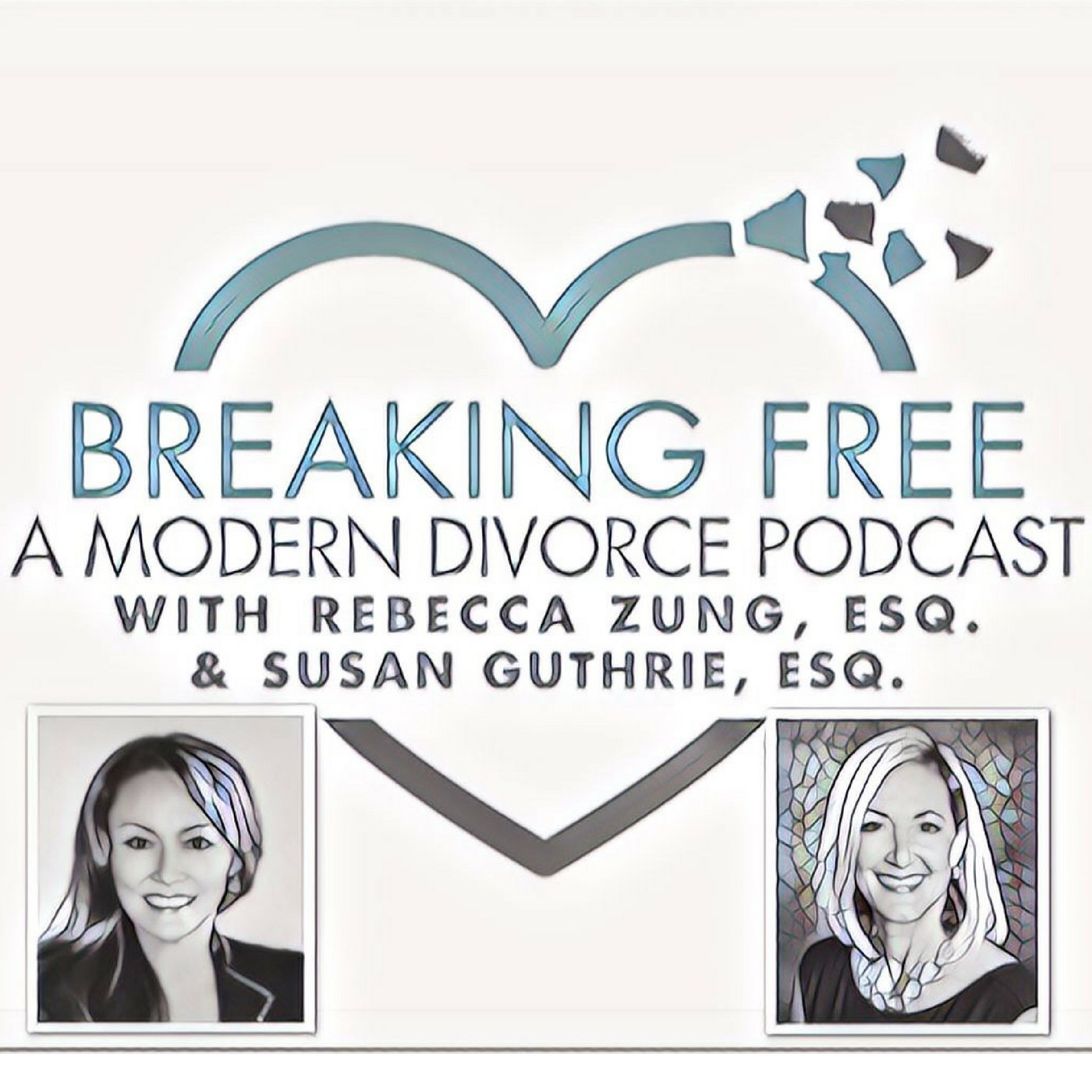 Rebecca Zung, Esq. and Susan Guthrie, Esq. discuss the difficulties that can arise during and after divorce when third parties get involved in the situation.
The New Spouse.  The Step-Kids.  The Parents.  The Friends.
Divorce is complicated but it gets even more so when third parties get involved - and they ALWAYS get involved!  What do you do when your ex has a new significant other?  What if your new stepchildren don't like you?  How do you handle your parents' and friends' well-meaning advice?
These situations and complications are sure to arise at some point and in this episode Susan and Rebecca share tips and pointers on how to handle things based on their many years as divorce attorneys and ALSO from their own personal experiences of divorce, being parents and step-parents and more.  Third parties WILL interfere in your divorce at some point - listen to this episode and BE PREPARED!
About Breaking Free: A Modern Divorce Podcast:
A fresh inspirational podcast and the place to hear other people's divorce and breakup stories so you know you aren't alone, to learn from the top experts in every related field, and to also have some fun, laugh and hang with two divorce attorney girlfriends who are also top family law litigators.
Hosted by veteran top attorneys, Rebecca Zung, Esq. and Susan Guthrie, Esq., subscribe to this podcast on iTunes; a new show will be released every Monday at 6 AM PST/ 9 AM EST.
Breaking Free Mediation:
For more information about Rebecca and Susan's mediation centers, BREAKING FREE MEDIATION, the first in the country to also offer a "mindfulness" track, please visit www.breakingfreemediation.com
To get your FREE 5 minute calming meditation from renowned meditation expert, Scott Picard, who has been featured in Vogue and the Los Angeles Times, please visit www.breakingfreefromdivorce.com/freemeditation 
Scott Picard Update:  As Scott mentioned in his episode, "From Chaos to Clarity: Using Meditation and Mindfulness to Deal With Life's Transitions" #117, he is suffering from kidney failure and is in need of a transplant.  Recently, a Go Fund Me campaign was started to help with his growing medical bills and to help defray the transplant costs.  If you are able, please consider donating at Kidney for Scott.  Thank you!
To get your copy of Rebecca's bestselling book, Breaking Free: A Step by Step Guide to Achieving Emotional, Physical and Spiritual Freedom, please visit the Amazon website at https://www.amazon.com/Breaking-Free-Step-Step-Achieving-ebook/dp/B00F0UN3GI
Sponsors and Resources:
FAYR Co-Parenting App - For more information on the co-parenting app FAYR created by Michael Daniels listen to Episode #123 "The Insider's Secret to Seamless Co-Parenting" and visit FAYR.com.  For listeners of the podcast, Michael is offering 20% off membership fees through the end of January, 2019 using the code "BRKFREE!".
BIFF:  To get a copy of BIFF: Quick Responses to High-Conflict People, Their Personal Attacks, Hostile Email and Social Media Meltdowns, by Bill Eddy, mentioned in this episode please visit Amazon here: https://amzn.to/2Fx9Ojh
Legal Zoom is a resource for forms and documents recommended by Breaking Free: A Modern Divorce Podcast. Go here for more!
Don't forget to follow BREAKING FREE: A MODERN DIVORCE PODCAST on social media for updates and inside tips and information:
If you want to see the video version of the podcast episodes they are available on YouTube.
Finally, we'd really appreciate it if you would visit iTunes and give us a 5 Star Rating and tell us what you like about the show - your feedback really matters to us!
DISCLAIMER: The commentary and opinions available on this podcast are for informational purposes only and not for the purpose of providing legal advice. You should contact your attorney to obtain advice with respect to any particular issue or problem.